Eco-style interior design
A desire to be closer to nature and get rid of an excess is completely natural in conditions of urbanized environment. Our home is a place we think about with smile and place, where we want to come back. But for each of us a perfect interior will be absolutely different.
Eco-style
Elements of eco-style are natural materials and ecological objects, still, eco-style begins not from the choice of materials, furniture and textile, but from the attitude towards the environment. The sense is in the feeling of interdependence between human life and nature.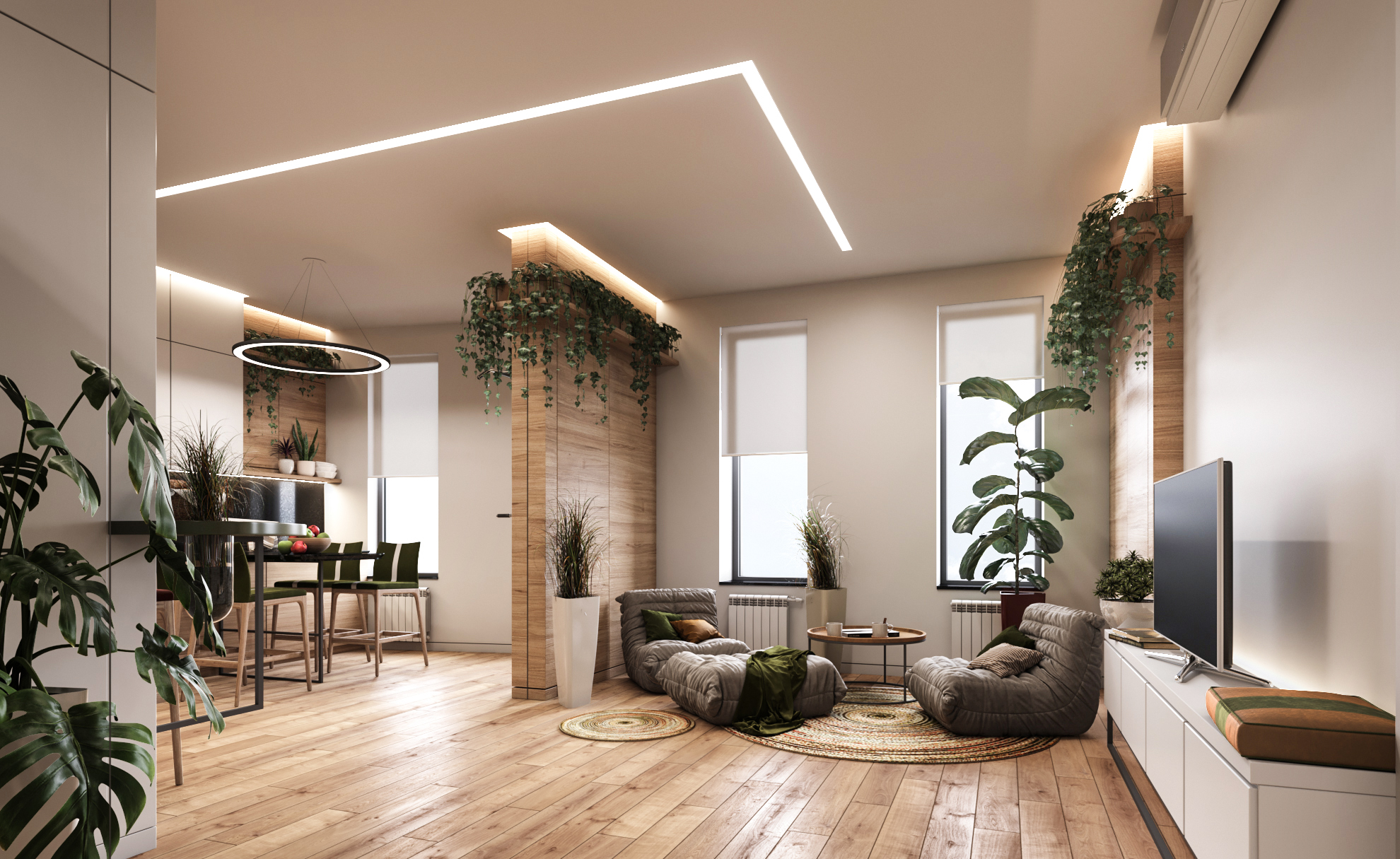 Feelings form the space
Eco-style doesn't welcome excess things and based on modern approach to design, so it's visually similar to minimalism. The main difference — all materials are natural, and colors are natural and warm. Space should become an addition for person, so it's important to allocate it right, own place - for each activity. In this way we've got a spacious anteroom and cloakroom separated from anteroom with sliding door and, if desired, these two spaces can be easily combined.

Stillages, that zone a space, are made of aluminum shape where cells are filled with frosted glass, mirror or open shelves. The play of frosted glass with light makes atmosphere look special. Clear contours of plants and objects of décor alternating with eroded silhouettes create a fancy play of light and shadows, and mirror inserts — dissolve stillage in the space.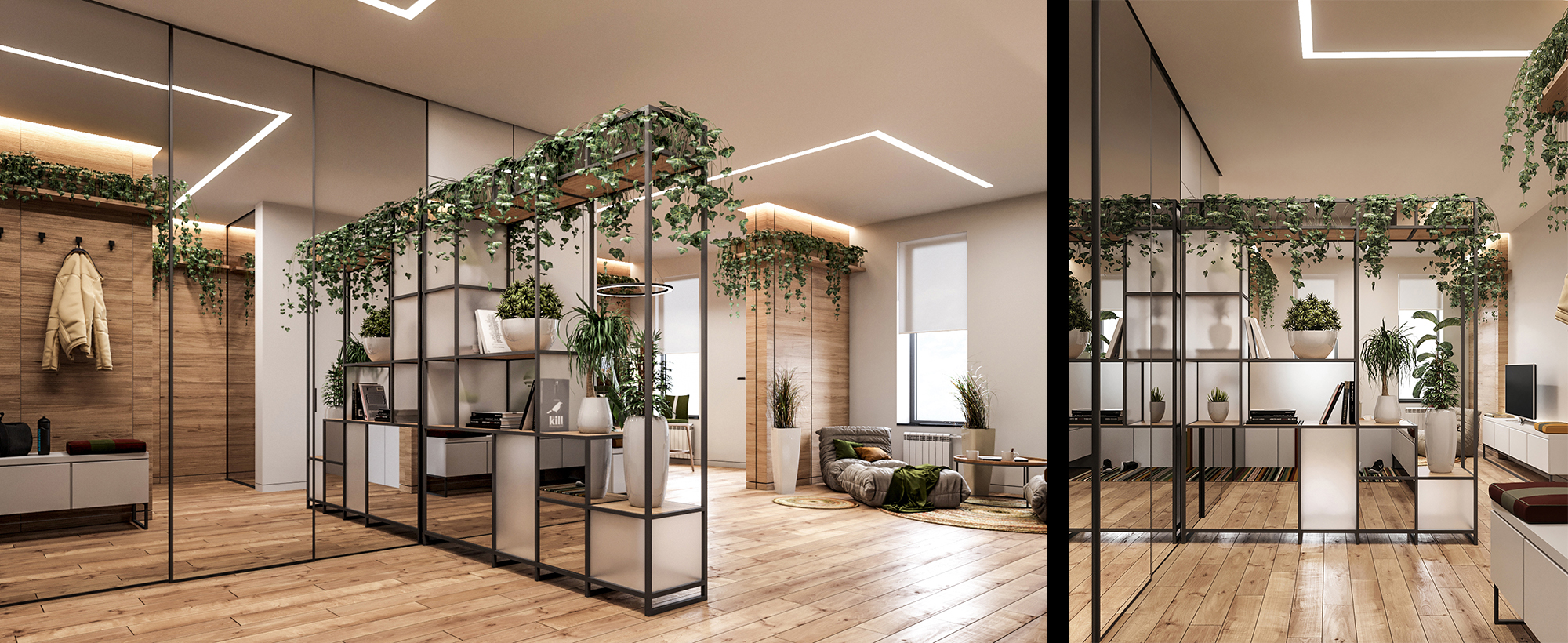 Kitchen and living room – is a single space, also separated into zones. Kitchen consists of a zone for cooking connected with the dinner table.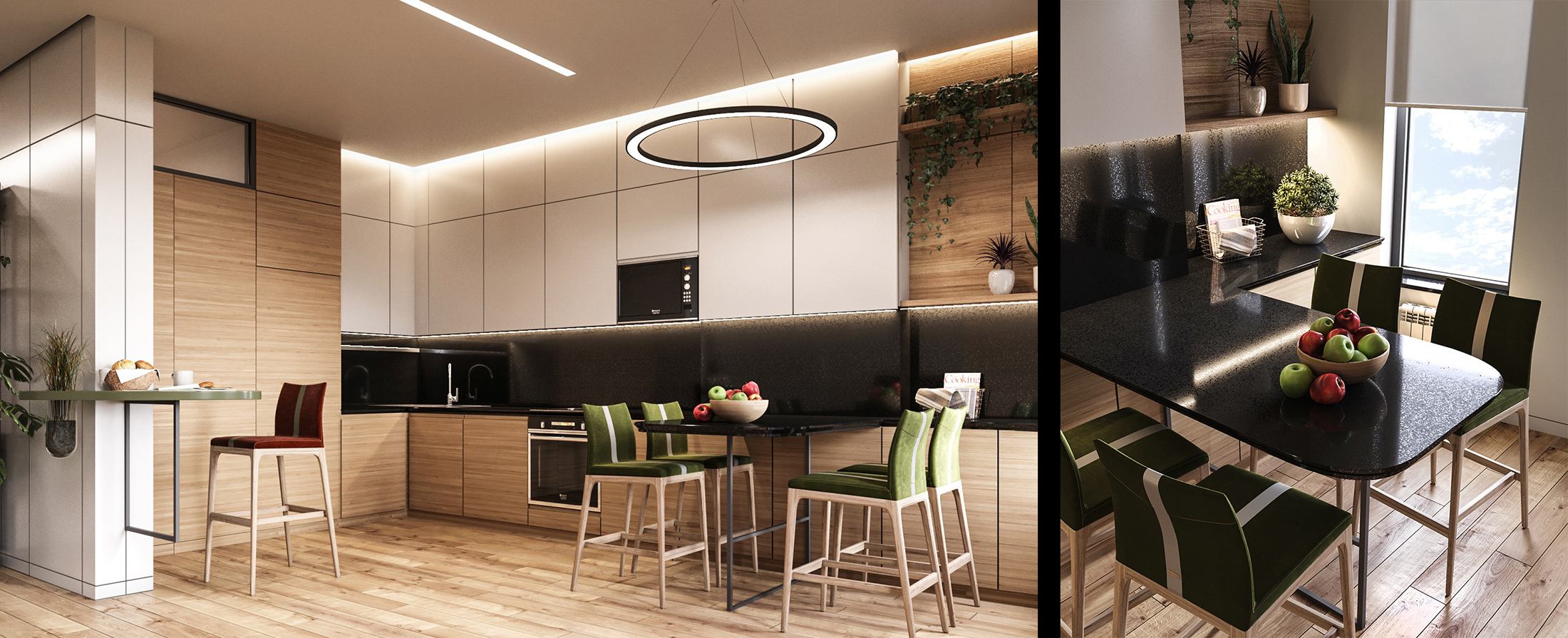 A small bar is comfortable for having breakfast or coffee. It is worth mentioning — important not only what we eat, but also in what atmosphere we do it.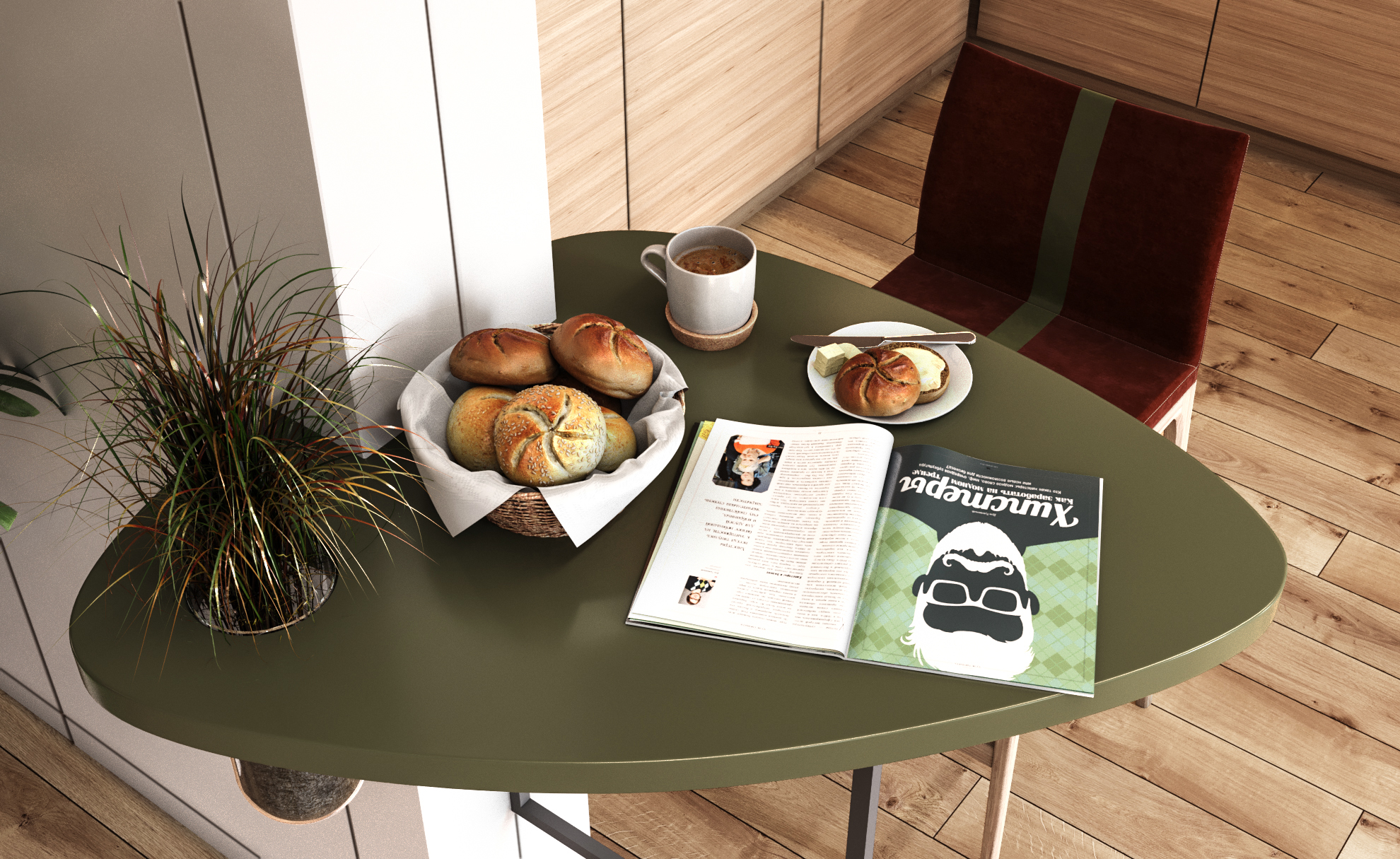 Living room with frameless furniture – is cosy and mobile. It's a place for having rest and communication.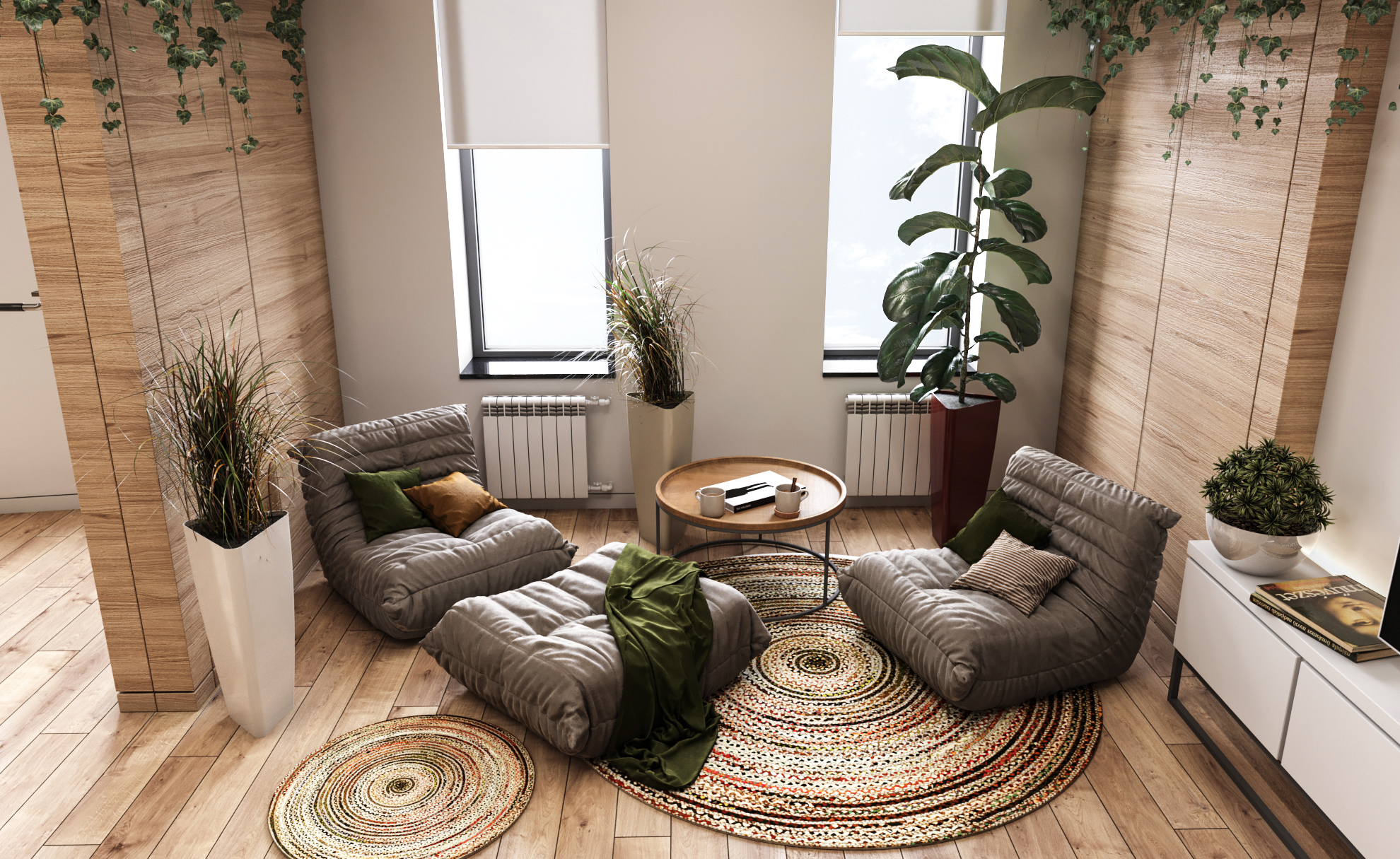 Bedroom and cabinet are separated with stillage. Workplace, shelves, headboard – is the same construction. Form is kind of overflows from one space to another, therefore it preserves integrity. Gymnastic ball in a fabric cover becomes an organic addition for the cabinet. The deviation from usual things makes atmosphere less formal and stimulates a creative thinking. It is a good alternative to the ordinary chair. It is used for "active sitting", to strengthen the muscles.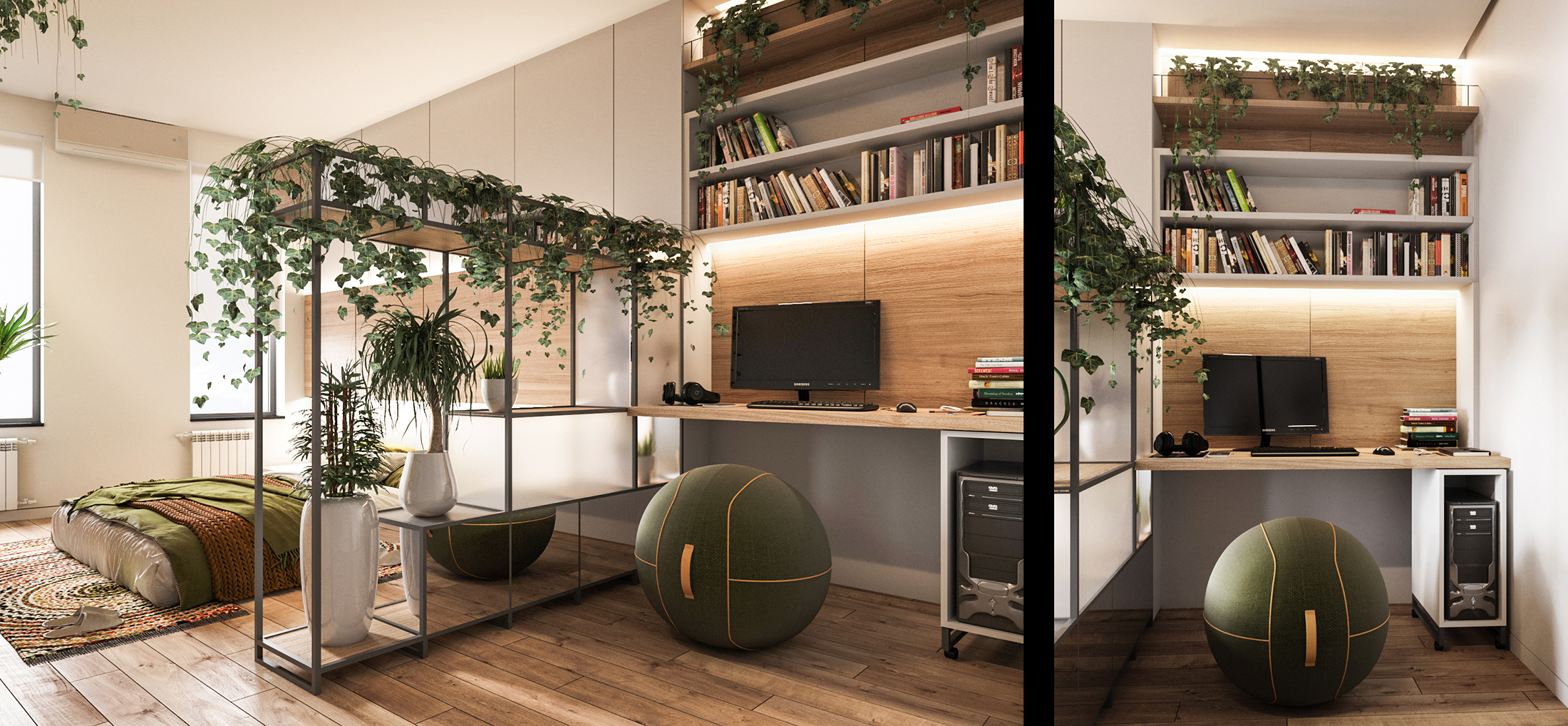 About material
Walls are finished with the veneered panels of the light wood texture and panels painted into white color. Facades of kitchen are made of the same material, therefore kitchen is organically fit into the overall area. Prevails light key. Color is used only in textile and décor — grassy-green, mustard-yellow, terra cotta and fills the apartment with warmth and comfort.
Abuot lighting
This style involves light and spacious rooms. We decided to decline blinds and chose light textile rolling shutters of the same color with walls, to avoid space congestion. Recessed in the ceiling above each zone luminaires evenly illuminates the whole apartment. Such light is approximate to the natural and correspond to the current trends in design — light is the element of interior, not its source.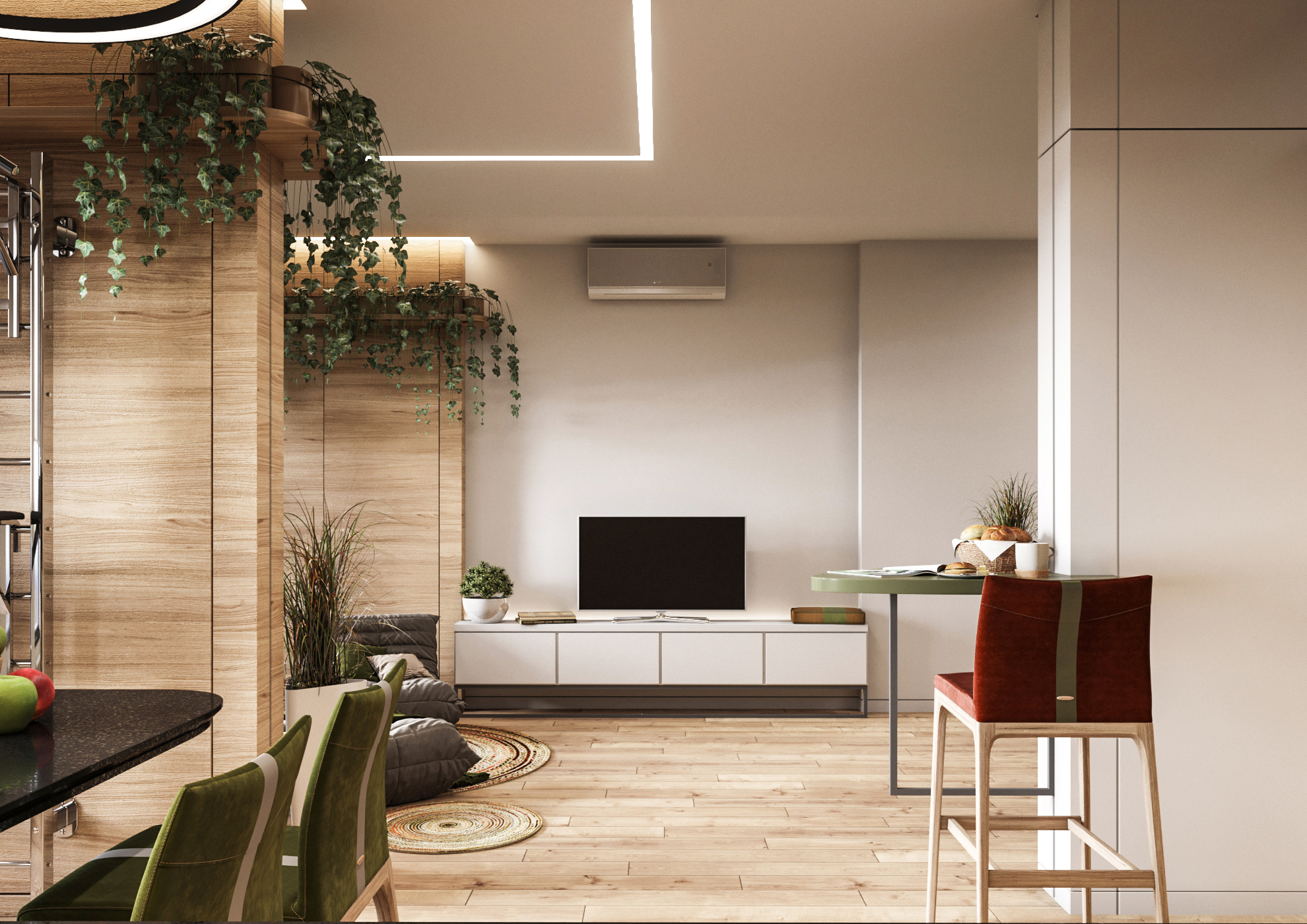 The soul of things
Hand-made stuff makes interior distinctive and unique. Weaved rugs, so familiar to each of us from childhood is a perfect example of accessories in eco-style.
In harmony with nature
Plants are an integral part of such an interior. In right places they can become a great addition to the space. Forming the vertical living gardens, they turn house into the real island of cheerfulness and joy.